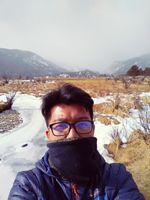 hello there, i'm Heiswayi Nrird, but most folks simply call me Wayi. by profession, i'm a software engineer at Keysight Technologies. my area of expertise lies in full-stack application development and cloud-based infrastructure software solutions.
when i'm not immersed in the world of code, i have a few other interests that keep life interesting. i enjoy capturing the beauty of landscapes through my camera lens. it's a hobby that offers a welcome escape from the digital realm.
i'm also an avid reader of tech articles and news. staying up to date with the latest in the tech world is something i find both enjoyable and informative. and, like many, i appreciate the occasional computer and mobile game to unwind.
this blog serves as an outlet for my thoughts and experiences, offering a glimpse into various aspects of my life. sometimes, it's all about coding and web apps, while at other times, it's just a repository for random musings. i hope this brief introduction gives you a clearer picture of who i am and what i'm all about. thanks for dropping by. ツ
me on elsewhere
i have socmed accounts (e.g. Facebook, Instagram, Twitter, etc.) but not really serious using them.
tech stack behind this site
contact info
email: heiswayi (at) nrird.com