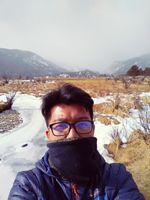 Hi. I'm Heiswayi Nrird. In short, people call me wayi. I'm a software engineer at Keysight Technologies (Penang, Malaysia) where I specialize in developing and maintaining software systems that enable the company to deliver innovative solutions to its clients.
PREVIOUS CAREERS
Global IT Manager @ ITD World
Application Engineer @ IME Technologies (Penang)
App Developer @ CEDEC USM
EDUCATION
BEng (Hons), Electronics Engineering, USM
THINGS I USUALLY DO
Design and code.
Contribute to some open source projects.
Play some computer games.
Move around and capture some landscape photographs.
Read some (e)books.
Meditate virtually.
EXPERTISE IN
End-to-end software product development
UI/UX design
Microservices architecture deployment
AWS/Kubernetes/Docker
Web API development
Agile Scrum
ELSEWHERE
LinkedIn · GitHub · Gist · CodePen · JSFiddle · Unsplash